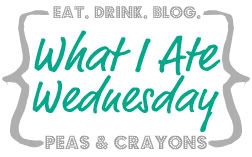 A while ago I was searching for some clean eating food blogs hoping for some ideas and inspiration to help clean up my diet. In my search, I stumbled upon a blog called Clean Eating Chelsey. If you like food blogs that are updated a lot, and I mean a lot, this is the blog for you. I can't keep up with her, and even super-reader Courtney has a tough time.
Every Wednesday she does "What I Ate Wednesday" and posts everything she ate that day. The best I can tell, this idea came from a blog called Peas and Crayons. It seems it has become a regular thing among the food blog community.
Even though this isn't a food blog, I thought I'd give What I Ate Wednesday a try. Here's what I ate today on my new gluten-free, healthy-eating diet.
Breakfast:
Trader Joe's Gluten-Free Oats with chia seeds (for omega-3s), cinnamon and shredded coconut, two scrambled eggs, a low-sodium V8 and coffee (yeah, still decaf).
Mid-morning, I had a salad that was primarily spinach with some butter lettuce mixed in. I added celery, raisins, garbanzo beans and goat cheese. I'm loving the goat cheese on salads.
Lunch was mostly left-overs from dinner last night. A pork chop, boiled red potatoes, a banana, yogurt, cucumber and a couple of squares of dark chocolate (probably the first time in my life a chocolate bar is going to last an entire week).
Cashew Cookie Larabar. I also had an apple and some raisins when I got home from work before heading to the pool to swim.
Dinner:
Grilled mahi mahi, cauliflower puree, roasted asparagus and a couple of squares of dark chocolate.
That's my day in food. I'm not sure if I'm going to make What I Ate Wednesday a regular thing, but I thought it would be fun to try. I will say, though, that having to post everything you ate in a day for everyone to see really makes you think about your food choices that day. Maybe I should post my meals everyday. That should ensure I eat healthy.